Order and register a Programmable Wireless SIM
This guide will walk you through the process of ordering your first Programmable Wireless SIM and preparing it for use. Once you've performed these simple but essential setup tasks, you'll be ready to try out your Programmable Wireless SIM in an IoT device.
We have a series of guides which you can follow to get specific IoT hardware development platforms connected to Twilio's seamless global cellular network — just pick the guide that matches the platform you intend to use to prototype your own IoT hardware.
But that's for later — the very first step is to obtain a Programmable Wireless SIM and get it ready for use.
You request Programmable Wireless SIMs using the Twilio Console — just go to Orders to login, scroll down to Programmable Wireless and select the number of SIMs you require:
For your first order, you should opt for a SIM Starter Pack — or the Narrowband SIM Starter Pack if you want to try out our NB-IoT connectivity. These contain three multi-size SIM cards of the appropriate type which you can add to your own account or share with colleagues and collaborators.
You can also buy a Twilio Developer Kit for use with Programmable Wireless SIMs. These include everything you need, to get started with Twilio IoT, including a development board, a SIM card, and sensors. If you choose a Developer Kit, you don't need to order a separate SIM.
SIM Starter Pack

Each SIM Starter Pack contains three multi-size SIM cards (2FF/mini, 3FF/micro, and 4FF/nano). These SIMs are not pre-registered to a particular Twilio account and come with registration instructions so that they can be easily shared with other developers on your team.

You can order Starter Packs with either Programmable Wireless SIMs for 2G/3G/4G use, or Narrowband SIMs which give you access to T-Mobile's NB-IoT network (US only).

The SIMs that come in a Starter Pack are identical to those you would receive if you ordered the Multi-Size SIM Cards. The only difference is that they do not come pre-registered to your account so you can share them across your team.

Multi-Size SIM Card

A multi-size SIM (2FF/mini, 3FF/micro, and 4FF/nano) card for either Programmable Wireless (2G/3G/4G) or Narrowband (T-Mobile's US-only NB-IoT network) that is pre-registered to your Twilio account and ready to configure when the order is shipped. The minimum order quantity is 10.

Optionally, you may order a Programmable Wireless multi-size SIM card with Trust Onboard.

Embedded SIM
Embedded SIMs are solderable SIMs (MFF2) that come in factory sealed reels of 10, 100 or 1000. They arrive pre-registered to your Twilio account and ready to configure when the order is shipped.
Which of the following steps you need to follow depends on which Programmable Wireless SIM you ordered:
If you ordered a SIM Starter Pack or a Developer Kit, start at Step 1.
If you ordered Multi-Size SIM Cards or Embedded SIMs then they will be pre-registered to your account so all you need do is to configure the SIMs:

Click on any SIM that you wish to configure.
Enter a name in the Unique Name field.
Click the red + button to the right of the Rate Plan field.
Follow the steps in the guide Understanding Rate Plans to create a Rate Plan.
Click Save Changes.
Jump to Use your Programmable Wireless SIM.

If you ordered a Narrowband SIM

Start at Step 1.
See Narrowband: The Twilio SIM for Massive IoT for details of Rate Plan setup.
Continue here at Step 4, below.
Click on the Register a SIM link.
Enter the SIM's registration code:


Click the Register SIM button.
When the SIM is registered to your account, an Activate a SIM page will appear. The first thing to do is choose a unique name for your SIM. This is a convenient way to identify your SIM in the Console and through the Programmable Wireless API.
Enter a friendly name in the Unique Name field:


Click Continue.
A Rate Plan defines the capabilities and sets the restrictions of each SIM associated with the plan.
You can create and add a new Rate Plan to your account, or select an existing Rate Plan. If your account doesn't have any Rate Plans yet, create one now.
Click the blue + button to open the Create a Rate Plan wizard. Click Continue after each step.

Indicate whether the SIM will be used only in the US or around the world:


Choose the services you want the SIM to support.
Note that the Voice option on the third screen, if enabled, will cease to function on October 1, 2021:


Select your SIM's Data Metering. Check out this page to learn more about the options available:


Set your SIM's monthly data cap (in megabytes per month):


Give your new Rate Plan a friendly name:


Click Save to finish.

When you're back at the Activate a SIM page, click Continue.
To complete the registration, you need to activate your SIM.
Click Activate Now:

Your SIM's activation will be added to the queue. You should see it move to the Active state almost immediately: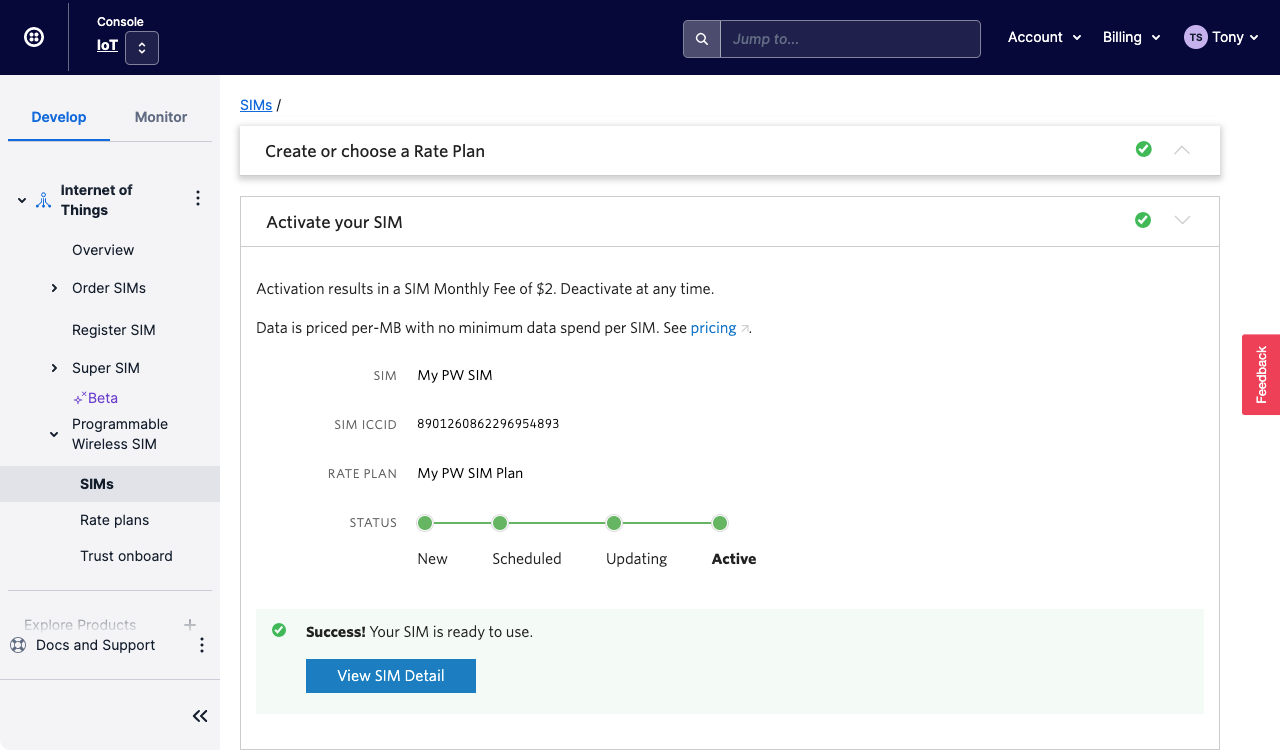 Whichever IoT development hardware you're using, you'll need to set its Access Point Name (APN).
To do so follow these instructions.
Your Programmable Wireless SIM is now ready to be used as the basis for your IoT device's cellular connectivity.
Need some help?
We all do sometimes; code is hard. Get help now from our support team, or lean on the wisdom of the crowd by visiting Twilio's Community Forums or browsing the Twilio tag on Stack Overflow.