Console: Create a Primary Customer Profile
The Trust Hub Customer Profile Console is currently in Public Beta and changes will continue to be rolled out while Twilio strives to move TrustHub to GA.
Currently, you can only create a Primary Customer Profile in the Twilio Console on a master account level. Navigate to Account > Trust Hub > Customer Profile and click Create Primary Business Profile to start the process.
Fill in the your company's general information including your business name and physical address.
Add a physical business address to your customer profile. If you have a previously saved address, you will be able to select it. Or you can always create a new one.
After creating/selecting a physical address, you should be able to see it in the Customer Profile edit page.
Please note: If you have a US entity or an International Tax ID, use EIN to register your business profile and to avoid brand registration failures. Do not use a DUNS number.
After saving your general information, you will need to fill in the Business Information section.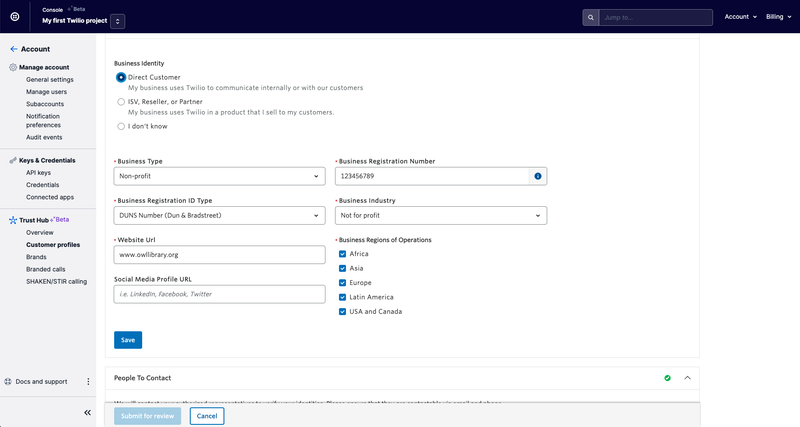 A Primary Customer Profile requires two authorized representatives from your company who Twilio can reach out to for confirming the business and use case. These need to be two different representatives.
Twilio provides a customized way to notify you when your Primary Customer Profile gets approved or rejected. It could be an email address or through a status callback webhook.
Always review the terms of service and privacy policy before submitting for review.
When you fill in and verify all information for your Primary Customer Profile, you can click Submit for Review. After that, if all required information has been filled in correctly, your Primary Customer Profile will move to In Review status, waiting for Twilio to review. Once your Primary Customer Profile is in review, you cannot edit it any more.
If there is any missing or wrong information, your Primary Customer Profile will be rejected immediately and the status will be Twilio Rejected. In that case, you can still edit your information and resubmit when you're done based on the Rejection Reasons displayed in the Console.
Your Customer Profile will get approved after Twilio vets your information. Once approved, the status will change to Twilio Approved and you cannot edit the profile any more.
Congratulations! You've successfully created your Primary Customer Profile.