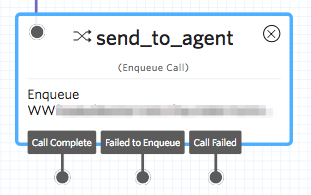 Description:
Enqueue Call enqueues the current call into a call queue. The caller will hear hold music until the call is dequeued by another caller.
Required Configuration:
You must select a Queue or TaskRouter Task when configuring this Widget. The choice may be selected from a dropdown, with additional configuration fields appearing based on the selection.
| | |
| --- | --- |
| Name | Description |
| Queue Name | The name of the Queue to place the call into (e.g. "Everyone"). If this Queue doesn't exist, it will be created on demand. Max length of 64 characters. |
| Workflow SID | The desired Workflow ID for handling the TaskRouter Task. |
Optional Configuration:
You may optionally decide to declare task attributes, priority, timeout, and a hold music TwiML URL for the request initiated by this Widget.
| | |
| --- | --- |
| Name | Description |
| Task Attributes | JSON representing task attributes (max 1024 characters) |
| Priority | The priority of this task in the TaskQueue. Tasks with a higher priority are assigned before older tasks with a lower priority. If not specified, will be treated as 0 during evaluation. |
| Timeout | The number of seconds you want the task to remain in this TaskQueue. Must be a positive integer < 2 weeks in seconds. If not specified, defaults to infinity. |
| Hold Music TwiML URL | The URL for custom hold music TwiML. If not specified, the default hold music will play upon enqueue. |
Transitions:
| | |
| --- | --- |
| Name | Description |
| Call Complete | Transition is triggered when the Enqueue action URL is requested. Due to the underlying behavior of the Enqueue action URL, Studio can only regain control of the live call after dequeueing if the call was originally dequeued using <Dial><Queue>. |
| Failed to Enqueue | Transition is triggered if enqueuing of the call fails due to full call queue (each call queue cannot exceed 100 calls), returning QueueResult as "queue-full". |
| Call Failed | Transition is triggered if QueueResult is "system-error". |
Need some help?
We all do sometimes; code is hard. Get help now from our support team, or lean on the wisdom of the crowd by visiting Twilio's Community Forums or browsing the Twilio tag on Stack Overflow.