What are toll-free numbers?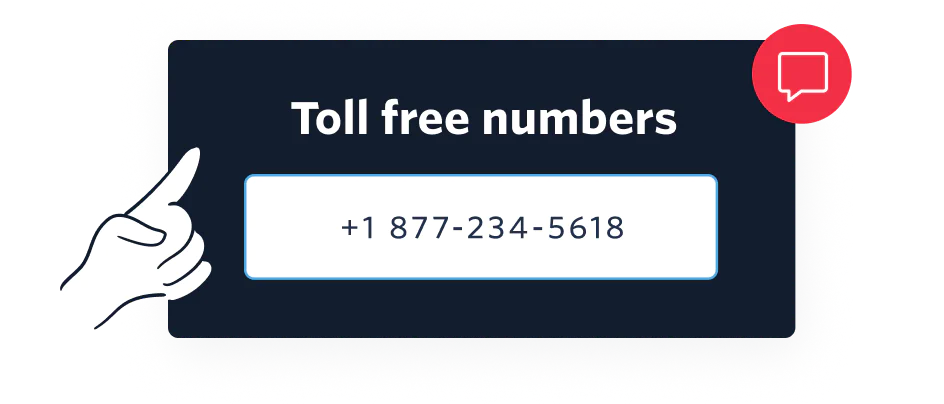 Toll-free numbers are 10-digit phone numbers (think the traditional 877-234-5618). These easy-to-remember phone numbers can be registered to a brand and used to send text messages, just like short codes and long codes.
Toll-free number use cases
Alerts and notifications
Use toll-free messaging to deliver important alerts and notifications to customers. Luma Health handles appointment confirmations, reminders, and more communications seamlessly for 7M+ patients.
Toll-free number features
High-throughput

Toll-free messaging throughput starts at 3 messages per second (MPS) with the option to raise to 150MPS+ with onboarding onto high-throughput toll-free

One number for messaging and voice

The same recognizable number to support customers over SMS messages or calls, with the voice-enabled capabilities of 10DLC

Delivery receipts

See if and when your messages are delivered to customers' handsets for full transparency into message performance
BYO number

Use an existing toll-free number and enable it for messaging to create a single branded identity that's easy for customers to remember, like vanity toll-free numbers (1-833-PET-MART)

API & Software for Onboarding

Register and verify all of your toll-free numbers through our API or Console experience

Largest range of use cases

Toll-free numbers cover the broadest range of use cases for messaging in the US and Canada
What are the benefits of toll-free texting?
Getting started with toll-free numbers
Get your messages delivered reliably with a branded toll-free number
Find out why toll-free numbers are becoming the ideal choice for business messaging. Fast-track your number verification and deliver the same trusted experiences to customers.
FAQs about toll-free messaging